Work environnement
The "CFPPA du Morvan"(centre for vocational training and agricultural promotion) is located in a rural area with a high level of illiteracy. 10% of rural areas are touched by this issue against a national average of 9% (INSEE / Daily Life survey). Geographical isolation, long distances to socio-cultural resources and a high rate of unqualified school leavers justify classing the Morvan as a Zone of Priority Education.
If the "CFPPA du Morvan" is concerned with providing a local solution in terms of education and training, integration, promotion and experimentation; it is also interested in combining the local and the international levels and interacting with peers in order to improve its educational and training programs.
We would like to share our experiences and those of our peers to better respond to the need of giving a civic autonomy to people who have not found their place in society and therefore risk exclusion. Social integration is the main thread of our activities and we are convinced it is through words that we will give our students the tools to "read the words to read the world" (Paulo Freire).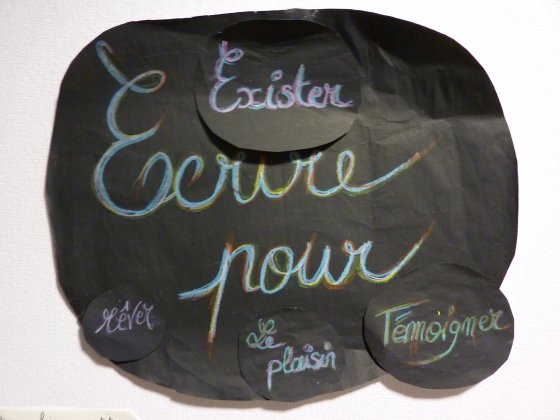 CFPPA du Morvan
Aims, Mission and Goals
The CFPPA has been engaged in fighting illiteracy since 2002. It leads basic knowledge workshops aimed at illiterate people (educated in France) and various activities defending the right to education at any age (creation of a students' association, coordination of a European project with a view to create a European network of learners–ambassadors to defend the right to education at any age...).
The learners' association should become the seventh link of the "knowledge chain", a national movement carried and initiated by FARCLI (training for actors and research in the fight against illiteracy). The learners intervene in teacher training and in the meetings on illiteracy; they take part in research groups using the "action-education" research methodology. The students start thinking about their own re-education path, are able to reflect on the illiteracy issue and to propose courses of action to develop the right to education at any age.
Structure of the institution
The CFPPA leads activities at a local, national and international level. The basic knowledge workshops have a local dimension since the aim is to respond to local needs. The educational programs emanate from public policies and are funded by the state, region, Europe or local districts... This workshop are reserved exclusively for people with illiteracy issues (average age : 42, groups of 8 to 10 students). Immigrants are welcomed on different programs.
In parallel to these activities, the CFPPA, in conjunction with ALECTA and FARCLI, wish to participate in national works and reflections.
Finally, we wish to pool our practices, share experiences which work to model what can be transferred at a European level. That way, we hope to build a lasting partnership with our European colleagues who work on the illiteracy issue. This is why we participated in the EUR-alpha project and submitted the Grundtvig project (creation of the European network of students-ambassadors).
Number of teachers involved in literacy tuition: 3 (2 working with people with illiteracy issues, 1 working with migrants).
Methodology : awareness-raising pedagogy
Current lines of work
creation of the students' association ("Par chemins")
creation of the seventh link of the "knowledge chain"
Grundtvig project / creation of a European network of students-ambassadors to defend the right to learn at any age
participation in the ANCLI permanent forum on practices (Lyon)
participation with a student (giving a lecture) in a symposium on mobility and "basic knowledge"
Examples of Achievements
Publications